A few weeks ago, I attended the super exciting Critical Approaches to the Study of Religion conference. The conference was held at Queens University in Belfast in Northern Ireland and was organized by the Center for Critical Research on Religion. For three days, researchers from different parts of the world gathered to present their research that dealt with various topics such as the application of feminist theory to religious studies, secularism, post-colonial studies of religion, and the role of digitization in how religion is practiced today.
I participated in the panel Subjectivity and Religion where I presented my research project on Muslim women, art and activism. The title of my presentation was Understanding Swedish-Muslim women's subjectivity work through the concept of double consciousness. Recently, I have been reading and thinking through the sociologist WEB Du Bois' theoretical concept of double consciousness, in order to understand how young Muslim women, relate (or not) to discourses about Islam and Muslimness within the Swedish context. How they form their sense of identity in relation to societal expectations but also how this process includes seeds of creativity, in recent years being articulated through art such as spoken word poetry. I will write more on double consciousness in another post!
With several super interesting panels as well as fun meetings and conversations with other participants, this was probably one of the best conferences I've been to. Perhaps it was a combination between this being the first time this particular conference was held and the fact that people came together after a long and difficult period of pandemic and isolation. I experienced a liberating absence of prestige and stress with room for conversations in a more humble and pleasant atmosphere.
Another central theme during the conference and what perhaps most piqued my curiosity and interest in going to Northern Ireland was its long political history of colonialism, violence and sectarianism. It was thus no coincidence that a conference on critical studies of religion took place in a place like this. A highlight of the conference was the so-called Belfast political tour where we were given a tour of the city with a focus on the so-called peace wall, a several kilometer-long wall that still separates Catholic and Protestant areas in Northern Ireland, bearing witness to a conflict that is not over.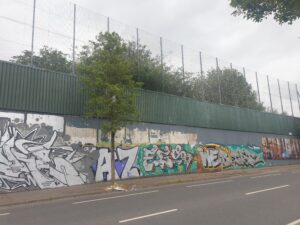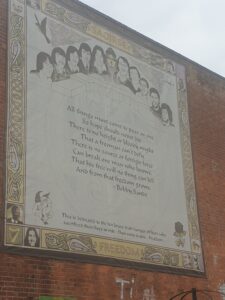 I hope to come back some day and, above all, discover more of Ireland.
The Center for Critical Research on Religion also publishes the academic journal CRR (Critical Research on Religion). Together with my colleague Per Erik Nilsson, I have edited a special issue on racism and religion in the journal. The number is expected to come out soon!